Featured Products
Dickies Everyday Work Trousers - ED247¥2,283.82 (exc VAT)¥2,740.59 (inc VAT)

Dickies Work Trousers

Portwest Hi Vis 4 in 1 Contrast Traffic Jacket - S471¥6,969.95 (exc VAT)¥8,364.51 (inc VAT)

Hi Vis Workwear

Helly Hansen Ludvika Jacket - 71376¥18,056.48 (exc VAT)¥21,667.78 (inc VAT)

Helly Hansen Workwear

Cotton Rich Unisex Polo Shirt - UC112¥745.10 (exc VAT)¥893.55 (inc VAT)

Uneek Clothing


Dickies Storm II Safety Boot - FA23385S¥3,825.41 (exc VAT)¥3,825.41 (inc VAT)

Dickies Safety Boots

Lee Cooper Cargo Work Trousers - LCT205¥2,453.68 (exc VAT)¥2,944.71 (inc VAT)

Lee Cooper Trousers

Premium Polo Shirt - UC102¥950.64 (exc VAT)¥1,140.48 (inc VAT)

Uneek Clothing


Tuffstuff Extreme Work Trouser - 700¥4,098.04 (exc VAT)¥4,917.36 (inc VAT)

Tuffstuff Workwear

Found the boots to be exactly as I required, budget priced boots for a warehouse environment. Speedy delivery too. Thanks, would definitely use totalworkwear again.
David
I just want to say a huge thank you for the support and I am one more happy customer for total workwear and will be returning whenever I need any more work wear! Thank you for all your help.
James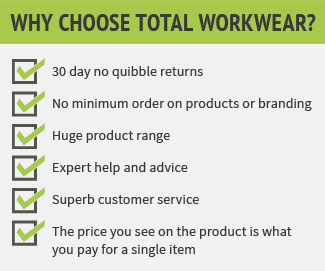 THESE CLIENTS CHOOSE TOTAL WORKWEAR

TOTAL WORKWEAR
Total Workwear are a UK based online retailer. We have provided high quality value for money workwear to individuals and companies in the UK, Europe and beyond for many years. We have thousands of products available to suit every trade, profession and safety requirement including the Food Industry, FR (Flame Retardant) Marine Safety, Coldstorage, Forestry, PPE, Disposables, ESD/Antistatic workwear, Health and Beauty, Painter's bib and Brace, overalls, coveralls, work trousers, knee pads, waterproofs, safety boots and shoes. We also have an ever increasing range of womens workwear. Many quality brands of workwear are available including Portwest, Helly Hansen, Dickies, Gore-tex, Regatta, Snickers, Lee Cooper, Caterpillar and Himalayan to name a few. We have a first class branding service which allows us to print or embroider your text or logo on to a huge range of work garments. We don't just provide workwear as our ever increasing list of school and college clients can testify.The friendly team at Total Workwear take great pride in providing a good, friendly customer service before, during and after you buy online from us and are happy to advise on what's best for you. Make Total Workwear the first port of call for your workwear and branding needs.